The name Télébec originated with the first telephone company to operate a municipal system in the town of Bécancour, "Téléphone Bécancour", which was founded in 1965 by a group of businessmen. Three years later, Télébec merged with seven other phone companies: Téléphone Princeville ltée, Télécommunication Richelieu ltée, Téléphone de Contrecoeur ltée, Compagnie de Téléphone La Tuque ltée, Télécommunications de l'Est ltée, Compagnie de Téléphone Arthabaska ltée, and Compagnie de Téléphone Pontiac ltée.
The merger of these eight companies gave birth to a new enterprise, which immediately adopted the name Télébec ltée at its incorporation on May 1, 1969.
Other territories were added to the Télébec network in quick succession: Fermont in 1972 and Manseau in 1973. Over this period, Télébec also made a colossal effort to unite into a single, functional entity all of the disparate elements inherited or acquired since its beginnings. The company integrated the employees of numerous companies scattered between the Magdalen Islands and Shawville in the Upper Ottawa Valley, harmonized the rates, standardized the administrative structures, and urgently renewed large segments of its new network.
In 1976, Télébec merged with Téléphone du Nord du Québec inc., the company serving the Abitibi-Témiscamingue region. In just seven years, Télébec had grown from 35,000 to 86,000 customers.
Following this major milestone, Télébec began to consolidate its growth by stepping up its acquisitions across Québec. In 1979, the company received approval to serve the areas of Petite-Nation, Château-Richer, Campbell's Bay and Saint-Sébastien. The same year, Télébec acquired La Compagnie de téléphone d'Ungava in Schefferville.
In 1980, Télébec acquired certain assets of La Compagnie de téléphone de Champlain, Les Lignes Kébec inc., La Compagnie de téléphone de Saint-Méthode-de-Frontenac, followed by La Compagnie de téléphone de Saint-Norbert-d'Arthabaska in 1981. The next year, Téléphone Saint-Evariste joined the network, and in 1985, Sotel inc. - which served the James Bay area - came under Télébec rule.
Since then, Télébec has managed the largest territory served by a telecommunications company in Québec. From James Bay to the Magdalen Islands in the north, from Venise-en-Québec in the south, to Saint-André-Avellin in the west, an area encompassing 750,000 kilometers square and 300 municipalities, Télébec now offers integrated and innovative telecommunications services to more than 150,000 residential and business customers.
Subsidiaries
These acquisitions of regional businesses that have since become Télébec's subsidiaries or partners, the strategic mergers and integrations, combined with the creativity of its employees, have contributed tremendously to the remarkable growth and the modernization of the Télébec service offering.
Thus, in 1996, Télébec created its first subsidiary, Télébec Mobilité, to offer customers high-quality wireless telecommunications. Serving the Abitibi-Témiscamingue region primarily, Télébec Mobilité provides cellular services and other wireless technologies to Mont-Laurier, La Tuque and the Magdalen Islands. Télébec Mobilité is expected to grow exponentially in the next five years.
Télébec's unique expertise has also developed thanks to its ties with its other subsidiaries and partners: Liens Internet du Nord-Ouest (L.I.N.O) inc., now called Télébec Internet, for Internet solutions; Logicon Rouyn (1995) inc., now called Télébec Informatique, and Informatique Hamel inc., a subsidiary of Télébec Informatique, for network and automated solutions; Electro-Vision (La Tuque) inc., Télécâble Blouin inc. and Câble Média Plus inc., for cable distribution services; and Centre d'Interaction Proximédia inc., a call center and customer interaction network
In 2000, the acquisition of Câblevision du nord de Québec (CVNQ) - the largest cable company in Abitibi-Témiscamingue, with 50 or so employees and 32,000 subscribers - and the integration with Northern Telephone and its 250 employees and 65,000 customers are a tangible demonstration of the vitality and entrepreneurial spirit of Télébec, a company that has carved itself a choice position in the world of telecommunications.
Names harmonization for the subsidiaries
Convergence in the telecommunications industry and Télébec's desire to meet the needs of its customers by offering simple, integrated, and easily accessible services have resulted in a new course for the company in January 2003: Télébec is harmonizing the names and logos of its subsidiaries.
Besides their logo changes, Lino (Lien Internet du Nord-Ouest) becomes Télébec Internet and Logicon becomes Télébec Informatique. Télébec Mobilité also changes her logo to match the Télébec's family resemblance.



Télébec, a division of Bell Aliant
In February 2007, Télébec and its subsidiaries becomes part of the Bell Aliant Regional Communications group, an income trust created in 2006 and controlled by Bell Canada. Bell Aliant is one of North America's largest regional communications providers and serves customers in New Brunswick, Newfoundland and Labrador, Nova Scotia, and Prince Edward Island from its Halifax headquarters.
Télébec's logo as an identifier for all telecommunications products and services offered by the company is gradually introduced from 2008 and May 1, 2009, a closer link is created with Bell Aliant with the descriptor "a division of Bell Aliant " added to the Télébec logo.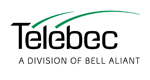 Télébec joins the BCE family
November 3, 2014, BCE announced the completion of its privatization of Bell Aliant and the integration of its Atlantic Canada affiliate into BCE's national operations. As a member of Bell Aliant, Télébec integrated the BCE family. The mention "a division of Bell Aliant" was removed from the logo at the same time.